The ANEC Secretariat ensures the daily operation of the association and co-ordinates the work and activities of the standing working groups in defined areas of priority. It keeps in close contact with the European Commission, the European Parliament, the European Standards Bodies, NGOs and relevant actors. The Secretariat has a full time staff of ten people.
Secretary-General

Stephen Russell holds a Masters degree in Politics & Applied Economics and, after careers with BSI and CEN, has 30 years of experience in standardisation. Stephen leads the association under the strategic direction of the President and the General Assembly.
Managers

Tania Vandenberghe is a bio-chemical engineer and manages activities in the sectors of Child Safety and Domestic Appliances, including electrical appliances, gas and machinery. She was made Senior Programme Manager in January 2009 to mark her 15th year with ANEC.

Chiara Giovannini holds Bachelors and Masters degrees in law. She is Senior Manager responsible for Policy & Innovation. Chiara supports the Secretary-General on policy development and on relations with ISO/COPOLCO. She also manages the Accessibility and Digital Society Working Groups and supervises the Smart Meter & Smart Grid Project Team.

Michela Vuerich holds a Masters degree in International Communication and an Associate Certificate in Environmental Management. She is the Programme Manager for the Services and Sustainability Working Groups and respective Project Teams: Health, Care & Support Services PT, Postal Services PT, Sustainability Project Team on Chemicals.
Ecodesign Project Coordinator

Aline Maigret holds a Masters degree in Environmental Management and Policy from Lund University Sweden and is the coordinator of the ANEC/BEUC Joint Project on consumer representation in the implementation of Eco-design and Energy labelling legislation.
Fundraising Officer
Timothy Findlay is the ANEC-BEUC-ICRT Fundraising Officer. Tim leads the work in delivering ANEC fundraising strategy by engaging external funders, either for projects cross-cutting the three organisations or individually. He has a Bachelor's degree in politics and Diploma in project management.
Programme Officers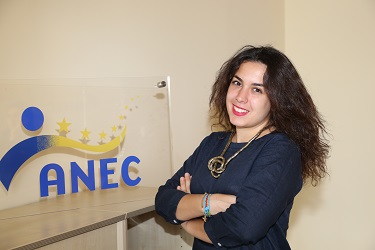 Francesca Carrettoni has a BSc in Political Science & International Relations and a MSc in International Public Policy and Management. Francesca is Programme Assistant, Sustainability & Services. She is in particular responsible for the coordination of activities in the Services WG and related Project Teams.
Ieva GALKYTÉ holds a bachelor's degree in political science and will soon obtain a master's degree in European Studies from the Institute of International Relations and Political Science of Vilnius University. In addition, Ieva deepened her knowledge of European affairs at the Université Libre de Bruxelles in Belgium and the University of Montana in the United States. She is Programme Officer, Policy & Innovation. Ieva is responsible for providing support in coordinating the activities in the Accessibility and Digital Society sectors and coordinating the activities of the Smart Meters & Smart Grids Project Team. Furthermore, she provides support for the collaboration with Consumers International and ISO/COPOLCO and is a commissioning editor of the ANEC newsletter.
Alana Valero holds a Bachelors degree in Ecology and a Masters degree in Environmental Management. She is Programme Officer for the areas of Sustainability and Services. Alana also coordinates ANEC representation in Eco-design related standardisation.
Communications Officer

Natalia Giorgi holds a Masters degree in Public Administration with a Major in International Management. She is the Communications Officer and assumes the first preparation of the Interim and Final Activity Reports.