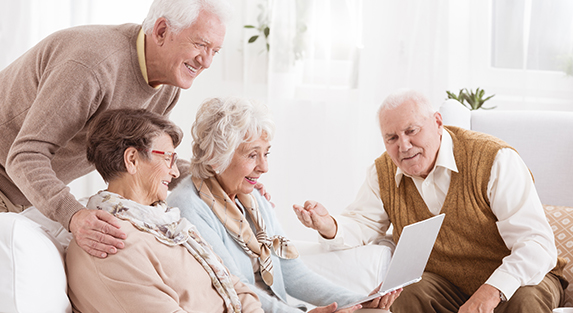 It is a basic consumer right to have access to products and services. Discrimination exists if older people, and persons with disabilities, cannot use today's mainstream consumer products and services. ANEC believes that standards are a suitable tool to overcome this discrimination if Design for All (DfA) principles are applied. Design for All means designing mainstream products and services so that as many people as possible can use them, regardless of age or ability.
The ANEC Accessibility Working Group unites experts from both the consumer movement and organisations representing older people and persons with disabilities. Its work is based on the ANEC Policy Statement on Design for All.
For several years now, ANEC has lobbied for standards to be used to enhance the safety and usability of products and services for older people and persons with disabilities. If standards for mainstream products and services do not meet the requirements of all consumers, it means that many products and services cannot be used by a large part of the population, despite the current demographic trends that include an Ageing Europe.
As a result of ANEC's lobbying, several working groups focusing on the accessibility of product and services standards have been set up such as, CEN/CENELEC JTC 11 'Accessibility in the built environment, 'CEN/BT/WG 213 'Strategic Advisory Group on Accessibility (SAGA)' and CEN-CENELEC JTC 12 'Design for All'.
ISO/IEC Guide 71 (CEN-CENELEC Guide 6)
ANEC contributed to revising ISO/IEC Guide 71 'Guide for addressing accessibility in standards', published in December 2014 by the International Organisation for Standardisation (ISO), International Electrotechnical Commission (IEC) and International Telecommunication Union (ITU). The publication of the revised Guide 71 was accompanied by a policy statement from IEC, ISO & ITU on standardisation and accessibility. Both documents are available on the ISO website.
The document outlines the developments in thinking (on design, and accessibility itself) since publication of the previous version in 2001. It goes on to discuss the various approaches to accessibility in more detail, acknowledging that there is no single definition in current use worldwide.
In 2015, on the occasion of the International Day of Persons with Disabilities celebrated on 3 December, ANEC published guidance on the use of ISO/IEC Guide 71:2014 and CEN-CENELEC Guide 6:2014 "Guide for addressing accessibility in standards".
ISO/IEC Guide 71 'Guide for addressing accessibility in standards' was also submitted to systematic review until 3 March 2020. Given Guide 71 remains valid, ANEC wants to see the Guide confirmed. The Guide is adopted as the identical CEN-CENELEC Guide 6. In November 2020 we welcomed confirmation of ISO/IEC Guide 71 'Guide for addressing accessibility in standards' which had been submitted to the Systematic Review. We were a key contributor to the revision of Guide 71 in 2014, the first deliverable to be triple-logoed by ISO, IEC & ITU. CEN-CENELEC Guide 6 was also confirmed.
Reflecting vulnerable consumers' needs and mainstreaming accessibility in EU policies and standardisation
ANEC is also working to build a momentum within the European Institutions to put the needs of vulnerable consumers (children, persons with disabilities and older people) at the centre of EU policies. Based on our position paper of December 2011, we influenced the European Parliament Report on Vulnerable Consumers adopted in May 2012 and the European Commission Communication, "Consumer Agenda".
On 7 February 2013, the European Consumer Consultative Group (ECCG) approved an ECCG Opinion on consumers and vulnerability, drafted by ANEC and BEUC based on ANEC's position paper on Vulnerable Consumers of December 2011. The aim of the Opinion is to provide a better understanding and increased consideration for all consumers' needs so as to develop an inclusive and targeted policy approach by the European Commission, and in particular in their response to the European Parliament Resolution on a strategy for strengthening the rights of vulnerable consumers of May 2012.
In February 2014, the Parliament and Council adopted several product safety directives under revision ("recast") such as the Low Voltage Directive and the Lifts Directive to align them to the New Legislative Framework (NLF). ANEC lobbied for the concept of foreseeable use to be included in the legislation in order to have the needs of all consumers taken into account. We believe consumers can be effectively protected only if their (foreseeable) behaviours are duly taken into account by manufacturers when designing products. MEPs and Member States took on board our call to consider real consumer behaviour when setting safety requirements. We also welcomed the need for standards supporting the Low Voltage Directive to respect the UN Convention on the Rights of Persons with Disabilities.
In April 2014, the revised R&TTE Directive, now called Radio Equipment Directive (RED) was published in the Official Journal of the European Union, after the agreement of the European Parliament and the Council of Ministers. The concept of "foreseeable use" must be taken into account for conformity assessment, as proposed by ANEC, to protect vulnerable consumers.
'Design for All' standard
In October 2018, ANEC welcomed the approval of EN 17161 'Design for All - Accessibility following a Design for All approach in products, goods and services - Extending the range of users'. This standard was prepared by CEN-CENELEC Joint Technical Group (JTG) 12 'Design for All' in response to mandate M/473 to include 'Design for All' in relevant standardisation initiatives, and in training material on accessibility standardisation. ANEC campaigned for the adoption of the standard and contributed significantly to its drafting. A Design for All approach can maximise the range of potential users of products, goods and services, and so increase market share. It can also increase the proportion of the population, including persons with disabilities, able to participate fully and independently in society. The accessibility of products, goods and services achieved by Design for All therefore represents a win-win for all citizens and organisations.
The standard was published in March 2019 and on 21 May 2019, ANEC, together with the National Standards Authority of Ireland and the European Disability Forum, hosted a webinar on the origins of the M/473 and the purpose of EN 17161, attended by more than 100 persons.
The Protocol on accessibility following a DfA approach in standardisation
The protocol helps standardisers to decide whether and how accessibility following a Design for All approach should be addressed when reviewing an existing standard or developing a new standardisation project. The Protocol can be used at any stage of the standardisation process.
A series of publicly available documents explains the process and shows when the inclusion of accessibility following a Design for All approach could be relevant, with examples of context of use, environmental and human limitations.
Related links:
CEN-CENELEC document on understanding when accessibility following a Design for All approach is relevant.
CEN-CENELEC manual and protocol forms.
ANEC contribution to the European Accessibility Act
On 2 December 2015, the Commission published its long-awaited proposal for a directive on accessibility requirements for certain products and services (referred to as the European Accessibility Act or EAA). For many years, ANEC has been pressing for regulatory action to increase access to everyday products and services for consumers of all ages and abilities. Hence, in a press release, ANEC welcomed the European Commission's proposal to facilitate the accessibility of products and services through standards.
In February 2016, ANEC sent preliminary comments on the proposed directive, in response to a consultation launched by the Commission. In September 2017, the European Parliament adopted the EAA proposal.
The role of standards was agreed to remain the same (presumption of conformity to legal requirements), in line with our position. With European standardisation being the preferred option, Parliament and Council agreed to give the Commission the possibility to adopt technical specifications in specific cases and delegated acts with binding requirements in very justified cases.
In September 2018, ANEC, the European Disability Forum (EDF), AGE Platform Europe and 17 other organisations co-signed an open letter urging Member States to improve the EAA proposal ahead of the next EU interinstitutional negotiations. We called on EU leaders to agree on an ambitious Act before 3 December 2018, the European Day of Persons with Disabilities.
On 8 November 2018, the provisional agreement on the EAA was finally reached by the Institutions after much discussion. The agreement will now be submitted to the Council's Permanent Representatives Committee (COREPER) for approval. Presuming agreement, the Parliament will vote in plenary session, with the Council concluding the adoption process.
ANEC welcomed the approval by the European Parliament and Council and the publication of the European Accessibility Act in the Official Journal of the European Union in June 2019. The Directive will apply to several products and services (eg: computers, e-books, self-service terminals, delivery of transport service information, including real-time travel information, consumer banking services, etc.) placed on the market after 28 June 2025. By 28 June 2022 the member states shall adopt and publish the laws, regulations and administrative provisions necessary to comply with this Directive. Harmonised standards will have to be developed to provide presumption of conformity with the legal requirements.
After many years of lobbying, this proves a significant achievement for ANEC and the disability movement.
ANEC welcomed the ISO standard on access to the built environment, ISO 21542 "Building Construction – Accessibility and usability of the built environment", published in February 2012. Since work started in 2005, ANEC contributed to drafting of ISO 21542, the purpose of which is to define how the built environment should be designed, constructed and managed in order for people to have independent means of access and egress, irrespective of their ages or abilities. ANEC was able to ensure the standard would not replace national standards that required higher levels of accessibility. In 2017, ISO TC 59 started to revise ISO 21542, in line with the ANEC position. ANEC participates in the revision of the standard, bearing in mind that within Mandate M/420, ISO 21542 is recommended as the basic accessibility standard for the built environment. At the end of 2020 the final draft was delivered to ISO/CS to prepare the Final Voting draft and the FDIS 21542 stage will start in the first quarter, i.e. February of 2021. ANEC supported the approval of ISO/FDIS 21542 (Ed 2), as it represents a more advanced state-of-the-art concept on the accessibility and usability of new buildings worldwide. We did nevertheless submit editorial comments, as a few requirements seem too low compared with existing national accessibility standards in Europe. We have proposed data is collected on these aspects and considered at the next review of the standard. In April 2021, the standard was adopted at international level. At the end of 2016, the second phase of M/420 on accessibility requirements for public procurement in the built environment started. ANEC is a Project Leader of the team developing the standards.
The deliverables of the second phase of M/420 comprise:
A European Standard at the level of common functional requirements that contains a set of functional European accessibility requirements of the built environment to be used as either technical specifications or as criteria for awarding public contracts (in the sense of the Public Procurement Directives) (D1);


A Technical Report describing technical performance criteria to be able to fulfil the above mentioned functional accessibility requirements (D2);


A Technical Report containing reference documents needed to assess conformity in the development of standards on basic functional requirements and minimum technical specifications for built environment elements.
On 5 June 2019, ANEC supported the adoption of prEN 17210 'Accessibility and usability of the built environment – Functional requirements' at the CEN-CLC-UNE Workshop 'M/420 access to the built environment'. The aim of the standard is to help implement UN Convention on Rights of persons with disabilities obligations for Member States. The standard can be used as criteria for awarding public contracts and assisting public procurers. It is also providing an educational function which can be useful for architects who have not enough knowledge in this rather new topic. ANEC led the drafting of the standard since the beginning and therefore gladly expressed support for its approval.
The standard was approved after the enquiry in July 2019.
After the last CEN-CLC JTC 11 meeting, all decisions on the comments received to prEN 17210 the PT, led by ANEC, were finalized and incorporated in the Formal Vote version. prEN 17210 'Accessibility and usability of the built environment - Functional requirements' has been approved by CEN members during the Formal Vote stage, which was open until 29 October 2020.
The standard was approved with the following results: 15 National Members approving, 1 National Member disapproving and 13 Abstentions. Some countries submitted technical and editorial comments, therefore CEN-CLC JTC 11 to address some of the comments in the next months, before publication. EN 17210 "Accessibility and usability of the built environment – Functional requirements" was published on the CEN Websites on 31 January 2021. ANEC, who was involved in the drafting of the standard warmly welcomes it.
ANEC also welcomed the finalisation of FprCEN /TR 17621 "Accessibility and usability of the built environment Technical performance criteria and specifications": fulfilling the requirements and recommendations of EN 17210 with one/some appropriate example(s) acc. state of the art and of FprCEN /TR 17622 "Accessibility and usability of the built environment Conformity assessment" to fulfil the functional requirements of the EN 17210. Both standards were approved in 2021. The ANEC expert was Project Leader of the team drafting both standards.
Due to the enormous impact of the Information Society on consumers' everyday lives, it is vital for electronic communications to be accessible for all. The ANEC Accessibility WG's aim is that regulations and standards ensure adequate levels of safety and accessibility for all. This horizontal issue is a common priority of the Accessibility and Digital Society WGs.
Mainstreaming Design for All principles within and outside ANEC is also a priority for the ANEC Accessibility Working Group. Input on standardisation activities that are related to accessibility issues addressed by the other ANEC Working Groups is provided. As an example, collaboration with the ANEC Domestic Appliances (DOMAP) WG on the exclusion clause issues has proven to be very effective (see section below).
Furthermore, a close link between research projects and standardisation should be ensured in order to gather scientific evidence to support the application of Design for All principles from the very beginning of product design.
ANEC is represented in:
CEN BT WG 213 'Strategic Advisory Group on Accessibility (SAGA)'
CEN TC 293 'Assistive products and accessibility'
CEN TC 293 WG 12 'Accessibility'
CEN/TC 293 WG 13 'Tactile lettering'
ISO TC 173 'Assistive products'
ISO TC 173 WG 10 'Assistive products for cognitive disabilities'
CEN TC 10 'Lifts, escalators and moving walks'
CEN TC 10 WG 1 'Lifts and service lifts'
CEN TC 10 WG 6 'Fire related issues'
CEN TC 10 WG 7 'Accessibility to lifts for persons including persons with disability'
CEN TC 10 WG 8 'Stairlifts and vertical platforms for the disabled'
CEN TC 10 WG 9 'Inclined lifts'
CEN TC 122/ISO/TC 159 'Ergonomics'
CEN TC 449 'Quality of care for older people'
CEN TC 452 'Assistance Dogs',
CEN TC 452 WG 6 'Accessibility'
CEN-CENELEC-ETSI JWG 'eAccessibility'
CEN/CENELEC JTC 11 'Accessibility in the built environment'
CEN TC 331 'Postal services'
EC Sub-group of the Web Accessibility Directive Expert Group (WADEX)
ISO TC 59 SC 16 'Accessibility and usability of the built environment'
ISO TC 59 SC 16 WG 1 'Accessibility and usability of the built environment'
ISO/TC 59/SC 16 WG 4 'Accessibility of the immovable cultural heritage'
ISO TC 228 WG 14 'Accessible Tourism'
ETSI TC 'Human Factors'
During the meeting of the EC Committee on Standards on 2 July 2021, ANEC welcomed the draft Standardisation Request (SReq) intended to provide the Harmonised Standards to support accessibility requirements of products and services in line with Directive (EU) 2019/882, the European Accessibility Act. We also welcomed the call for increased inclusiveness of the standardisation process in order to ensure consumers of all ages and abilities can participate effectively in the development of the standards, and deliver standards for all.
Turning to the revision of standards under the SReq, in the case of EN 301549 'Accessibility requirements for ICT products and services', we think new requirements for identification of e-banking services will need to be developed. Turning to EN 17210 'Accessibility & usability of the built environment', we think it would be valuable to make the contents of the standard accessible via an online toolkit. The toolkit could support accessibility needs, verification of supplier claims of accessibility, and information on testing & conformity aspects.
In June 2021, ANEC published a position paper on technical issues regarding the accessibility of lifts, notably how prEN 81-70:2020 can meet legal requirements (https://bit.ly/3jJ0rze).
In the paper, we recall that accessibility of the built-environment, products and services, is essential for persons with disabilities, and older people, to be able to exercise their rights and participate independently in society.
Referring to the existing normative framework, "Requiring an accessible built environment not only ensures suitable access and comfort based on 'Design for all / Universal Design' for a wider range of users including persons with disabilities but also contributes to their safety by creating a built environment", products and services, "where particular consideration is taken to avoid and/or reduce risks.
Following our appeal to CEN to respect legal requirements on visual contrast in push buttons and their surroundings in a lift (BT decision C062/2010), and the amendment developed in CEN/TC 10/WG7, we ask CEN/TC 10 WG 7 in the ongoing technical revision of prEN 81-70:
to respect the UN CRPD which is legally binding for EU and Member States;
to follow Design for All/Universal Design principles;
to include technical improvements based on the relevant functional requirements in EN 17210:2021 'Accessibility and usability of the built environment - Functional requirements'.
The Web Accessibility Directive makes use of Harmonised Standards to provide a presumption of conformity with its essential requirements. The Web Accessibility Directive (Directive (EU) 2016/2102) will be applicable as of September 2019 and the work is now focusing on the drafting of Harmonised Standards to implement the directive.
To this end, a draft Standardisation Request for Harmonised Standards on the accessibility of websites and mobile apps was issued by the EC, with ANEC's support. In May 2017, it was approved by CEN-CENELEC and the EC Committee on Standards. CEN, CENELEC & ETSI were asked to deliver Harmonised Standard(s) based on EN 301 549 V1.1.2 (2015-04), including necessary provisions needed to support the implementation of Article 4 of Directive (EU) 2016/2102.
In August 2018, the Standard EN 301 549 was published and is freely available online at ETSI website. In December 2018, a reference to EN 301 549 was published in the Official Journal of the European Union (OJEU), thus becoming the first Harmonised Standard which aims to provide presumption of conformity to the Directive on the accessibility of the websites & mobile applications of public sector bodies (Directive 2016/2102, the "Web Accessibility Directive"). The standard was drafted by the CEN/CENELEC/ETSI JWG 'eAccessibility' and the ETSI TC 'Human Factors', with the assistance of ANEC's experts.
Another revision of EN 301 549 started in 2019 with an enquiry that ended in September 2019. In September 2019 prEN V3.1.1 (2019-06) 'Accessibility requirements for ICT products and services' was approved. We welcomed the approval as this version of the standard contains several improvements such as WCAG triple A, RealTimeText interoperability and ICT with video capabilities.
ANEC commented on CEN/CLC/ETSI/JWG eAcc decision on the future of prEN 301549 after Enquiry vote. In coordination with EDF, ANEC supported the decision to skip the Formal Vote because of the few editorial comments received on the draft standard during the Enquiry stage. The decision was taken by unanimity, with the support of ANEC. In December 2019, EN 301 549 was published. In October 2020, ANEC supported the editorial revision of EN 301 549:2019 (v3.1.1) before its citation in the EU Official Journal.
ANEC supported the approval of the request from the CEN/CLC/ETSI JWG eAccessibility for New Work Item: prEN 301549 rev 'Accessibility requirements for ICT products and services' (WI JWEAC008), which was approved.
The new version of EN 301 549 (version 3.2.1) had been prepared. The Enquiry vote was opened until 2021-03-05. ANEC submitted comments on ETSI EN 301 549 V3.2.1 (2020-12) 'Accessibility requirements for ICT products and services', which were approved in line with ANEC's position. ETSI has approved the last version of EN 301 549 with 100% positive votes with 11 countries abstaining.
After a discussion on whether to maintain or revoke the technical reports of JWG, it was decided to maintain: CEN/CLC/ETSI TR 101550:2014, CEN/CLC/ETSI TR 101551:2014 and CEN/CLC/ETSI/TR 101 552:2014, in line with ANEC's position.
Also, in September 2020, the ETSI Human Factors Technical Committee has published ETSI TR 103 455, a Technical Report on standardisation in order to meet citizen and consumer requirements with regards to smart cities.
Prepared with the support of the EC and EFTA Secretariat, the Report aims to demystify standards to local communities. Smart communities enable citizens to have better living conditions, but at the same time empower them to have a say in matters that impact their daily lives. For example, equal treatment of citizens, including their data privacy concerns regarding personal information, needs to come at the forefront as the Report highlights.
A broad set of recommendations is included in the report- for the preparation of guidance material to help cities, codes of conduct to help service to the citizen, and standard measures needed to design citizen services, and improve security, privacy and accessibility.
ANEC hopes the Technical Report will lead to a much-improved understanding of citizens' needs, within local authorities and the standards organisations.
ANEC joined with AGE Platform Europe, the European Blind Union, and European Disability Forum in calling on the European Commission to make a legislative proposal that would deliver web accessibility for all. The proposal was published in December 2012.
On 26 October 2016, ANEC welcomed the adoption by the European Parliament of a Directive on the accessibility of Public Sector Bodies' websites and apps, which aims to ensure access to on-line public services to all consumers, regardless of their age or ability. The Parliament, in agreement with the Council, made significant improvements to the original Commission proposal issued in 2012, in terms of the websites covered and enforcement provisions, as well as the inclusion of access from a handheld mobile device and mobile apps. These improvements are largely in line with ANEC's position.
ANEC issued a press release to welcome the approval (Press release: Public web-sites and apps to be accessible 4 all!).
The Directive was then published in the Official Journal in December, with the requirement that all public sector mobile applications are accessible by June 2021.
"80 million people with disabilities, and 150 million people aged over 50, are among the many consumers who will benefit from this legislation", remarked ANEC Secretary-General, Stephen Russell.
To advise the European Commission in execution of its implementing powers, a Committee and Expert Group ('WADEX') comprised of Member States was set up. In addition, a WADEX sub-group of stakeholders was also created. An expert, nominated by ANEC with the European Disability Forum (EDF), European Blind Union (EBU) and AGE Platform Europe, represents the organisations in the stakeholder sub-group. Through the participation in the stakeholder sub-group, ANEC contributed to drafting the implementing acts under the Web Accessibility Directive (WAD), which were published in October 2018.
ISO/PC 311 is a project committee which was established in 2017 for standardisation in the field of services for all consumers. ANEC is contributing to the drafting of its first standard: ISO 22458 'Inclusive Service: identifying and responding to consumers in vulnerable situations'. Our contributions are based on our long-time assessment that all consumers, irrespective of age and/or knowledge, can become vulnerable at certain times – for example, in having access to knowledge needed to make an optimal choice - and as a result, there is a greater risk of consumer detriment ("the situational dimension").
In October 2020, the CD ballot for ISO 22458 was launched in ISO/PC 311, with a closing date of 10 December 2020. ANEC submitted its comments, highlighting that the present health crisis is showing how all consumers can be vulnerable in certain circumstances. ISO 22458 had been approved to proceed to the DIS ballot with several comments submitted. Upon resolution of the comments on the CD, including the accepted ANEC comments, the updated draft will be submitted to ISO/CS for preparation of the DIS ballot. ANEC commented in the previous stage- we are pleased ANEC's comments were taken account, many verbatim. As such we expect that it will be a good new document to refer to at international level. ANEC submitted a general positive comment.
EN 81-40 'Safety rules for the construction and installation of lifts - Special lifts for the transport of persons and goods - Part 40: Stairlifts and inclined lifting platforms intended for persons with impaired mobility' has been adopted by CEN. ANEC sent a Favourable Opinion in support of the standard. The date of availability is 2020-09-21.
EN 81-40 is a Harmonised Standard under the Machinery Directive. This edition replaces the existing standard published in 2008. The new standard features several changes that are beneficial to consumers. These include improved and new safety devices with barriers and seatbelts that are interlocked, and the introduction of an alarm system to summon assistance if needed. These changes not only make the normal use of a stairlift safer, but reduce the likelihood of a user attempting to dismount the chair mid-travel in the event of a failure, and falling as a result.
Other changes include a new requirement for a self-levelling system, again making use of the chair safer, and enhancements to aid safe transfer from a wheelchair. A selection of materials to meet fire safety regulations and a new normative annex on installation are also included.
The EC will now assess whether the new edition can be cited in the OJEU as a Harmonised Standard without modification.
Furthermore, in October 2020 ANEC welcomed the adoption of EN 17210 'Accessibility and usability of the built environment - Functional requirements' by CEN. The new standard describes basic, minimum functional requirements & recommendations for an accessible and usable built environment, following "Design for All"/"Universal Design". The Project Team responsible for drafting the standard was led by ANEC expert, Monika Klenovec. The principles of the standard will facilitate equitable and safe use for a wide range of users, including persons with disabilities. Its requirements and recommendations are applicable across the spectrum of the built environment. These requirements and recommendations are relevant to the design, construction, refurbishment or adaptation, and maintenance of built environments, including outdoor pedestrian and urban areas.
ANEC welcomed adoption of EN IEC 63008 'Household and similar electrical appliances – Accessibility of control elements, doors, lids, drawers and handles', developed by WG11 of IEC TC 59 'Performance of household and similar electrical appliances'. Several ANEC members were involved in the drafting of this standard, which provides information in the form of facts on accessibility, and an understanding of the interaction between appliances and users with a wide range of abilities.
EN IEC 63008 contains accessibility requirements to enable more accessible use of certain elements found on household and similar electrical appliances by older persons and persons with disabilities. It provides guidance to achieve accessible design of control elements (e.g. knobs, buttons), including control panels, display screens & doors, lids, drawers & handles. It covers supporting and auxiliary functions that a user performs regularly, as well as test methods and data supporting accessible design. It does not enable the full assessment of the accessibility of an appliance as safety, assembly, installation, configuration and repair.
At the beginning of 2019, ISO 17069 Accessible Design - Considerations and assistive products for accessible meetings was introduced into the national portfolio of Czech Standards (CSN).
The Czech Agency for Standardization (CAS) is responsible for the development of standards and administration of the CSN national system. However, the Cabinet for Standardization was in charge of preparing the above-mentioned tasks. The Cabinet is a public service company founded by the Czech Consumer Association with a view to develop and implement specific tools and ways to involve Czech consumers in standardisation. The fact that CAS entrusted this contractual assignment to the Cabinet reflects its intention to support consumer participation in standardisation. The Cabinet also translated the national adoption of ISO 17069 into Czech.
ISO 17069 defines requirements and good practice related to preparing and hosting meetings so that the organiser does not neglect, as far as possible, any aspect that would cause problems of access. Given that all persons should have the right to attend and participate in meetings, the standard provides a valuable resource in removing obstacles to participation. The Czech consumer movement therefore welcomed the initiatives taken to raise the awareness and use of EN 17069 at the national level.
Consumers expect domestic appliances to be safe to use, for themselves, their children and the older members of their families. The aim of regulators, as expressed in European Directives, is to achieve a high level of health and safety protection for all consumers. However, in the case of electrical products, these principles were undermined by the EN 60335 series of standards used to support them as they did not "… in general take into account the use of appliances by young children or infirm persons without supervision", the so-called "Exclusion Clause".
Why is this discriminatory?

The EN 60335 series of standard was written in the social and educational context where it was taken for granted that children and "infirm people" typically did not use the products covered by its scope without supervision. ANEC believed this to be discriminatory and asked for the deletion of this exclusion clause. Moreover, manufacturers and standards makers nowadays have the technical knowledge to review the design of products and their standards, to ensure that they are safe for use by all consumers, including children, older persons and persons with disability.
What is ANEC doing?
Since 2005, ANEC has led a campaign to revise the standards. In April 2010, the first six revised Parts 2 of EN 60335, largely based on ANEC's proposals, were published. This was a key achievement for ANEC and for the consumer movement.
Since then, CENELEC concluded the revision of other Parts 2 to the EN 60335 series, based on ANEC's proposal covering a particular appliance and embracing vulnerable consumers' needs. About 60 standards have been revised to enable them take into account the safety needs of vulnerable consumers.
ANEC, with Consumers International, continues its efforts to remove the exclusion clause by proposing improvements to further Parts 2 to the EN 60335 and "parent" IEC 60335 series, as well as on lower surface temperature limits in the IEC 60335 series.
To read more about ANEC's achievements in different sectors please visit our 'Success stories' web page.
To access position papers related to Accessibility please click the following link: Position papers.